Archive for the 'Movies' Category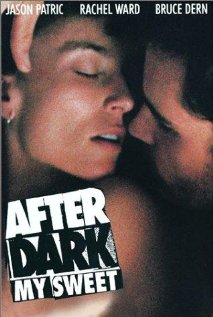 It's become an absolute cliche to say that the book is always better than the movie, but the Journal Pulp is about to let you in on a dirty little secret: it isn't always so.
The following, composed in rather rapid fashion, is my off-the-cuff top-five list of movies that are better than the book:
Number 5: The English Patient, a well-written novel by Sri Lankan-Canadian writer Michael Ondaatje. The movie, directed by the English auteur Anthony Minghella (RIP), with phenomenal acting performances by Juliette Binoche, the stunning and skeletal Kristin Scott Thomas, and most especially Ralph Fiennes, concretizes in ways the novel does not approach this complicated plot.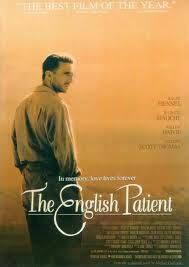 Number 4: The Grifters, by Big Jim Thompson (1906 — 1977), who was a prolific and good (if uneven) pulp writer. The movie came out in 1990 and is a kind of neo-noir film, directed by another English auteur named Stephen Frears, produced by Martin Scorsese. Anjelica Huston and Annette Bening deliver unforgettable performances ("So what's it going to be? The lady, or the loot?"), but the undisputed star of this show is John Cusack, who plays the cool and tragic Roy Dillon.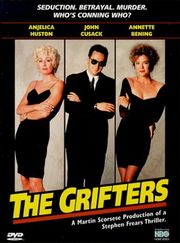 Number 3: Wild At Heart, by Barry Gifford, whom I admit to having a true literary affection for — though I'm not entirely sure why: he writes so much mediocre stuff. And yet there's something about him, something unlike anyone else. I did genuinely like his slim novel Wild At Heart and I recommend it for the writing style alone. In fact, it's among his very best efforts and the writing is truly beautiful. But it doesn't compare to the movie, directed by none other than David Lynch, and 1990 winner of the coveted Palm D'Or at Cannes — a flawed movie, to be sure (all Wizard of Oz references should have been removed), but a movie that is not unintelligible, as so many David Lynch movies are, a gorgeous movie with profundity and strangeness and seriousness and laugh-out-loud humor, all at the same time. Sailor Ripley, incidentally, the main character, is one of my favorite movie characters of all-time.
Number 2: After Dark, My Sweet, which was also written by the previously mentioned pulp writer Jim Thompson, a book told from the first-person perspective, as most of Jim Thompson's novels are, and in this case that first-person perspective flaws it, in my opinion. But I did like the book. The movie, however, directed by James Foley and starring Jason Patrick and the very lovely Rachel Ward (who never looked lovelier), is filmed with a sparseness and sense of longing that takes the story to a level far beyond noir. This is one of the most romantic movies ever, with a heartbreaking ending you will not see coming.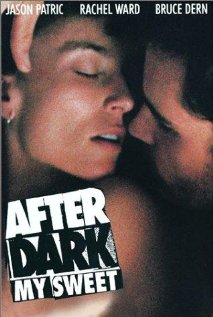 Number 1: Blade Runner, of course. Of course. A semi-famous novel, first published in 1968, entitled Do Androids Dream of Electric Sheep? by American writer Philip K. Dick, who is a good writer, though you wouldn't necessarily know it from this book alone. The movie Blade Runner (directed by the vastly overrated Ridley Scot) is not only better: it's better by light years. In fact, Blade Runner is bottomless, and without any doubt one of the greatest movie ever made.
Gattaca is one of my all-time favorite flicks.
It's not new — it came out over thirteen years ago, in 1997 — and yet having just recently rewatched it, it struck me as fresh today as on the day it was first released. It's also, I think, one of the most underrated movies of all-time.
It was written and directed by the New Zealand born auteur Andrew Niccol, who, before and after Gattaca, has been inexplicably silent.
It stars Ethan Hawke, Uma Thurman, and Jude Law. (The writer Gore Vidal plays an apposite supporting role.)
In 1997, Gattaca was nominated for an Academy Award: Best Set Decoration.
The title is based upon the initial letters of the four DNA nitrogenous bases (guanine, adenine, thymine, cytosine, guanine), and Gattaca, set in the near future, is a slightly cyberpunk, highly biopunk thriller that presents a vision of society driven by eugenics.
Vincent Freeman, played by Ethan Hawke, is an imperfect man who dreams of traveling to the stars. But given his genetic make-up (he's born with congenital heart condition) society, led by an elite bureau of planners called Gattaca Corp, has deemed Vincent "unsuitable." He's therefore been relegated to the status of "underclass," one of those human beings useful only for menial work. And yet not disclosed in his DNA is the fact Vincent's will is unbreakable.
Thus he assumes a fraudulent identity: the identity of one Jerome Morrow. The real Jerome Morrow (played so brilliantly by Jude Law) is a perfect genetic specimen who as a result of a botched suicide attempt is a paraplegic. The two of them, learning among other things how to deceive DNA sample testing, conspire to send Vincent on a space trip to one of Saturn's moons. They succeed at passing one genetic test after another, using samples of the real Jerome's hair, skin, blood and urine. Ultimately, a colleague of Vincent's (A.K.A. Jerome Morrow) is killed, and so Vincent is at long last scheduled for his space mission. At which point, however, another colleague begins to suspect Vincent's true origins, and the police investigate.
Vincent Freeman is, you see, one of the last "natural" babies. He's myopic and his DNA says that he is likely to die at age 30. He has an estranged younger brother named Anton (played by Loren Dean), who is now a police detective pitted against Vincent. The most moving moments in this very moving movie are, for me, the swimming contests — one told in flashback, when the two brothers are young, and one in the present — and when, afterward, Anton asks Vincent how as a genetically deficient human being he nevertheless won these swimming contests, Vincent answers that he won because he didn't save his strength for the swim back, since he was always willing to risk everything to succeed…
Gattaca is a timeless movie because it's a testament to the human spirit and to that fundamental act of will which we each possess, and which each individual alone can choose to activate, or not. It's a movie that hammers home the devastating truth that we are each the shapers of our own clay. But from a writer's perspective, Gattaca is edifying because it demonstrates so well the proper way in which a good story can integrate theme and plot.


A reader writes:
Dear Ray Harvey: Well, it took me five months but I finally finished reading More and More unto the Perfect Day and I wish to compliment you! Though it is a challenging and not easy read, it is rewarding and gives much food for thought to say the least. Your story reminded me a little (sometimes) of David Lynch, and I believe I remember you once answered a question about David Lynch, don't I? Do you still have that?
– John Kronk

Dear John Kronk: Thank you! If you liked my book, please tell your friends about it: if your friends like it, get new friends.
The following is probably the post you're referring to:

Dear Sir: Who's the better filmmaker, Quentin Tarantino or David Lynch?
– P. Durango

Dear P. Durango: Are you kidding? But there's no comparison. That's like asking me: who of those two has better hair?
As a filmmaker, David Lynch possesses innumerable shortcomings, foremost of which is the fact that he's an obscurantist extraordinaire — and this is no small thing.
The symbolic in art, you see, must never supersede the literal — or to put that another way, the symbolic meaning must always remain secondary to the literal meaning, and the literal must hold up on its own without reference to the symbolic. When an artist makes the symbolic meaning the tail that wags the dog, as David Lynch so often does, she defaults on art's primary function: making the abstract concrete.
Yet for all this, David Lynch is not only the better filmmaker: he's better by light years.
Quentin Tarantino barely makes it above average. He makes good B movies.
It's true that Tarantino can tell a story (at times, not consistently). This isn't really his problem. His problem is that he lacks any sort of real depth.
If theme is the meaning that a story's events add up to — and it is — then Tarantino's movies are almost all themeless because they add up to nothing. They're action movies, which, even as action movies go, are often boring and wildly gratuitous. (Inglorious Basterds was a notable exception.)
Tarantino's dialogue at its best is good, but it, too, is inconsistent. Pulp Fiction, slightly campy now, remains by far his best movie.
Reservoir Dogs? You can see certain skills at work there, in flashes, despite its wobbly plot. But there's no getting around the fact that Quentin Tarantino could never in a million years create Wild at Heart and Sailor Ripley, let alone the John Merrick that David Lynch gave us in his awesome version of the Elephant Man — John Merrick dancing alone in his room with tophat and cane, the pure poignancy of which scene is unforgettable.
Tarantino has yet to match Pulp Fiction. It seems to me now that he never will.
Pulp Fiction spawned a thousand imitators — and for good reason: it was funny and it was original. And yet its appeal has dated a little: many scenes still hold up and are as fresh today as they were fifteen years ago. But an almost equal number (i.e. "The Bonnie Situation") have grown stale and are unconvincing. Time has sunk them.
The David Lynch of Twin Peaks and the David Lynch of Blue Velvet has a depth and intelligence that Tarantino cannot match. Wild at Heart, which is half a decade older than Pulp Fiction, has proven more durable by far.
Just incidentally, Quentin Tarantino's "The Man From Hollywood" (his Four Rooms contribution) was taken from a Roald Dahl short story called "The Gambler," and if you want to see where Tarantino got his idea for the ending of Reservoir Dogs, please watch this movie, which was based on the novel by Lawrence Block.